New Mexico License Plates
The C
omplete Identification Guide to
License Plates Issued in the State of New Mexico
1910 - Present

Plus History, Trivia and More!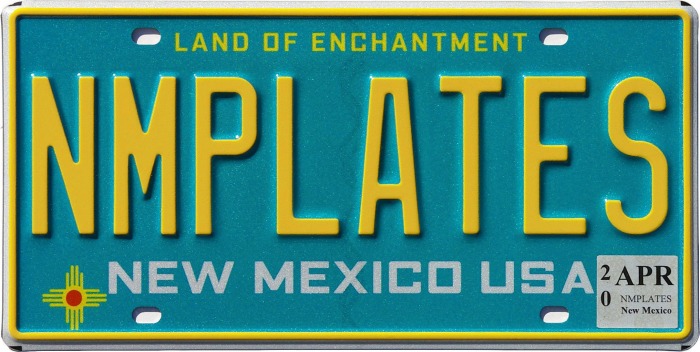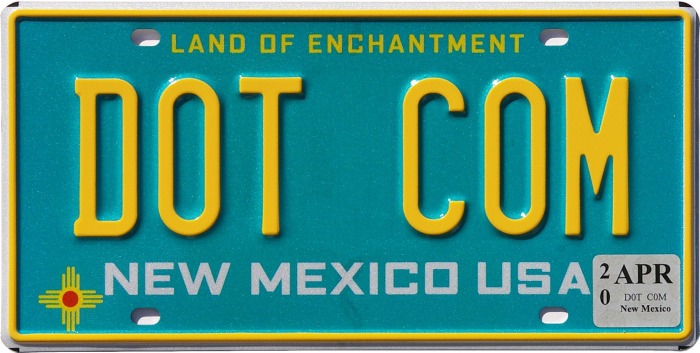 New --
Early New Mexico License Plates, 5th Edition Online eBook
-- New
The authoritative history of New Mexico License Plates, Bill Johnston's Early New Mexico License Plates, is now updated as the 5th Edition and available as a free eBook at the link above.
License Plates For Sale
New Mexico Chile Plates
The New Mexico chile plate was voted the best plate of 2017 by members of the Automobile License Plate Collectors Association (ALPCA). The chile plate beat out 16 other nominated plates from the U.S., Canada, Australia, and Japan. This marks the second time New Mexico has won the honor, with the last being the turquoise centennial plate in 2010. Read more on ALPCA's web site:
2017 Best Plate Award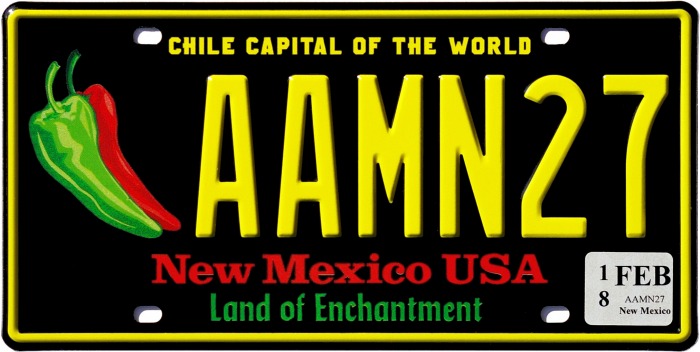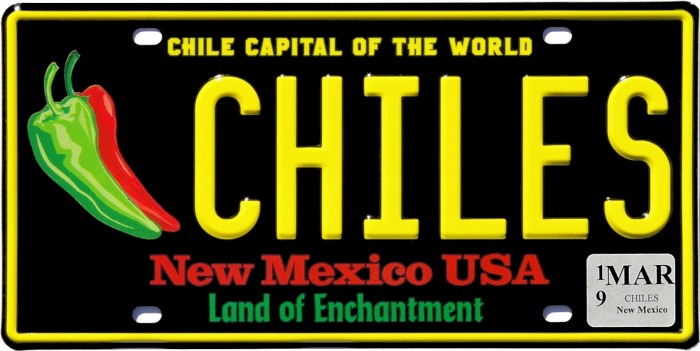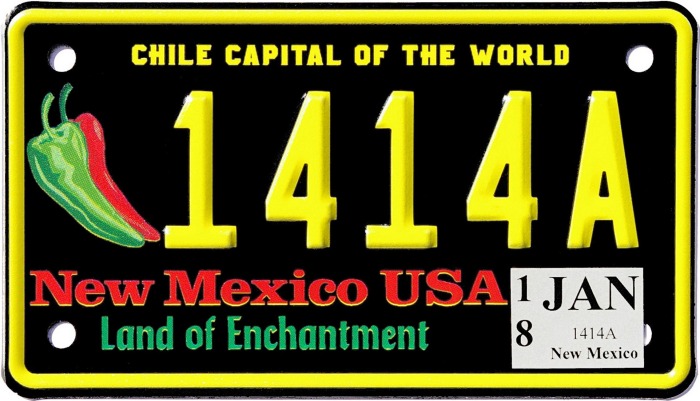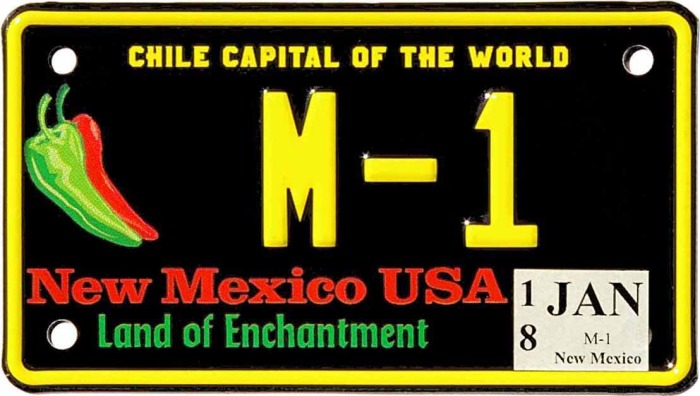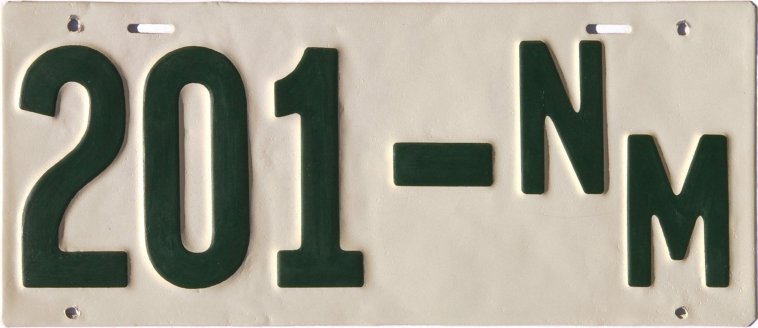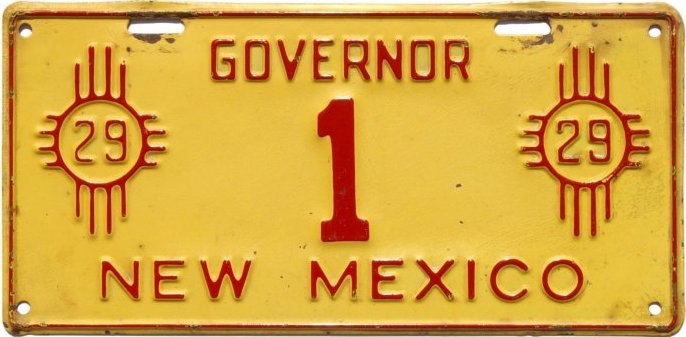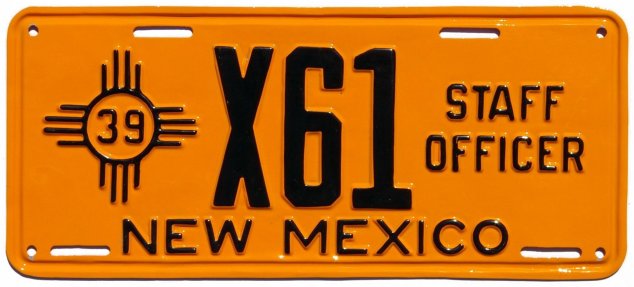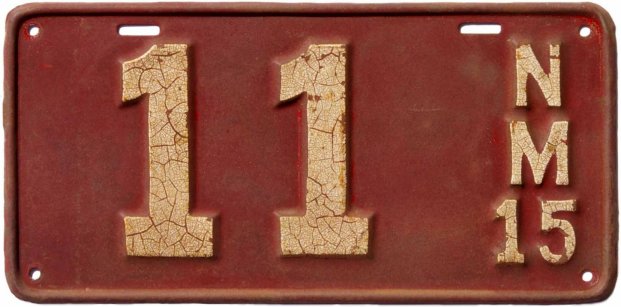 The New Mexico Transportation History Project is a not-for-profit organization (working to record and preserve the history of motor vehicles in the state of New Mexico. (We are not in any way affiliated with the New Mexico MVD). This website provides a visual account of a particularly important aspect of that work, i.e., the history of motor vehicle registration and licensing, including a permanent photographic record of every type of New Mexico license plate which has been issued from Territorial days to present.
The photos begin with the Territorial "pre-state" tags issued by certain municipalities starting in 1910, then continue with the state-issued plates which first appeared shortly after statehood was attained in early 1912. Multiple styles of some types of plates exist and you will find most of those varieties illustrated as well.
We also include photos of many related items such as early vehicle titles and registration certificates, driver's licenses, chauffeur badges, tribal plates, error plates, Highway Department signs and maps, plates issued by U.S. military installations within New Mexico, and so forth.
All of the photographs seen here are from the book Early New Mexico License Plates by Bill Johnston, and/or from the NMTHP archives.
NMTHP would like to hear from you... Do you have an old New Mexico license plate that you would like to know more about, or that you would like to donate or sell to our organization? If so please contact us!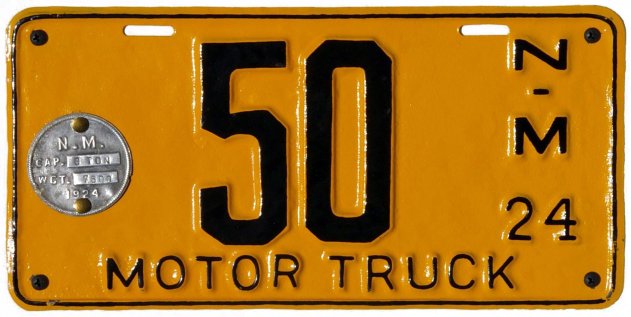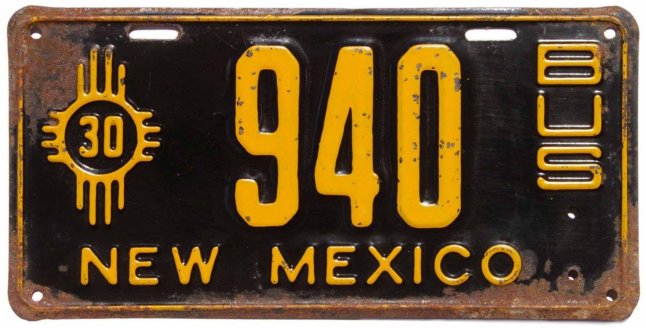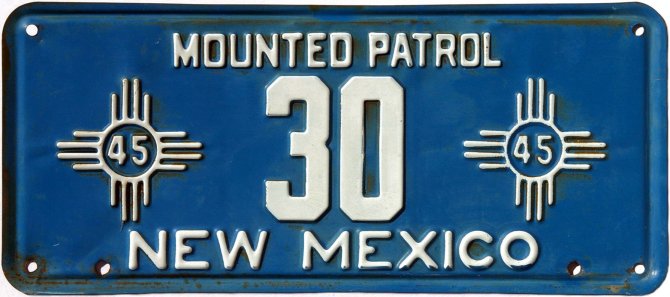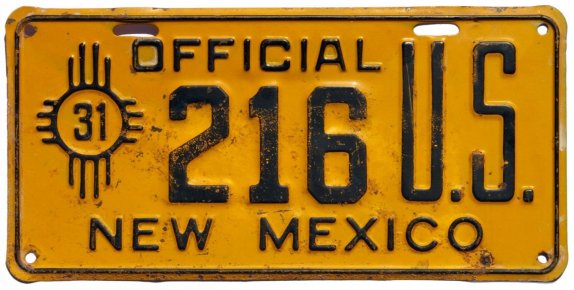 This site is
still under construction.
Let us know of any errors you see, whether typographical, factual, or otherwise.
191943 1951 4-H 400th 4H 50 66 a Adopt Adoption Advertising Afghanistan Agricultural Agriculture Air Alamogordo Albuquerque Allocations Amateur American and Anniversary Antique AP Appeals Apportioned Armed Arms Army Arts Association at Atomic Attorney Auditor Automobile Auxiliary Awareness B.F. Backing Badge Band Base Bases Bass Bataan BCCU Bernalillo Bicycle Bill Billboard bingo Blood Board Boat Booster Boy Brake Breast Bronze Bruns Bus buy C Camp Canceled Cancelled Cancer Cannon CAP Car care Carlsbad Carriage Carrier CB Centennial Cereal certificate Chain Chauffeur Chewing Chief Child Children's Citizens Civil Clerk Clovis Coach Coast collectible collection College Collegiate Combat Commercial Commissioner Consular Coronado Corporation Corps County Court Coverup Cross Cruces Cuarto Cumbres DAV Dealer Defense Deming Department descriptions Desert Disabled Distance Distinguished District Dog DONATE Donation Donor Double Driver Driver's Driverless Duplicate Eastern Education Emergency EMT Enforcement ENMC ENMJC ENMU Error Estate Ex- Family Farm Fe Field Firefighter First
F1943 1951 4-H 400th 4H 50 66 a Adopt Adoption Advertising Afghanistan Agricultural Agriculture Air Alamogordo Albuquerque Allocations Amateur American and Anniversary Antique AP Appeals Apportioned Armed Arms Army Arts Association at Atomic Attorney Auditor Automobile Auxiliary Awareness B.F. Backing Badge Band Base Bases Bass Bataan BCCU Bernalillo Bicycle Bill Billboard bingo Blood Board Boat Booster Boy Brake Breast Bronze Bruns Bus buy C Camp Canceled Cancelled Cancer Cannon CAP Car care Carlsbad Carriage Carrier CB Centennial Cereal certificate Chain Chauffeur Chewing Chief Child Children's Citizens Civil Clerk Clovis Coach Coast collectible collection College Collegiate Combat Commercial Commissioner Consular Coronado Corporation Corps County Court Coverup Cross Cruces Cuarto Cumbres DAV Dealer Defense Deming Department descriptions Desert Disabled Distance Distinguished District Dog DONATE Donation Donor Double Driver Driver's Driverless Duplicate Eastern Education Emergency EMT Enforcement ENMC ENMJC ENMU Error Estate Ex- Family Farm Fe Field Firefighter First Fishing Fleet Floor Flying FOP for Force Forces Fort Fraternal Freedom Freight Fund General Gold Goodrich Goudey Governor Grenada Ground Guard Guest Gum HAFB Ham Handicap Handicapped Harbor Heart Heritage High Highlands Highway History Hobbs Holloman Home Honor Horseless Hospital House I identi fication identify II in Inspection Institute Interstate Iraq Iraqi Issue Issues Johnston Judge Junior Just ice Key keychain Kids Kirtland Korea Korean Land Lands Las Law Leader Letter License Lieutenant LIFE Light LOE L PG Lt. Luna Majority Manufacture Manufactured Manufacturer Map Marine Mechanic Medal Medical Member Merchant Mexico Military Mining Minority Missile Mobile Modern Motor Motorcycle Mounted MTP Museum N.M. National Navy Neuter New NHSRA NMHU NMMI NMMP NMSP NMSU NMTHP NNMC Normal Northern Number of Officer Official old Operator Operator's Order Organ our Panama Paper Parking Passenger Patriot Patrol Pearl percent Permit Personalized pet photographs photos pictures Plate Plates Police Political Pool Porcelain POW Pre-State Prefix Premium President prestate Prestige Prisoner Pro Project Prorate Proving Public Purple Radio Railroad Ranch Range Ranger Rate Real Recreational Reid Rental Representative Rescue Retired Road Rodeo Roswell Route Safety sale Salesman Sample Sandia Sands Santa School Scout Scouts Search Secretary sell Senate Senator Sergeant Service Services share Sign Silver Spanish Spay Speaker Special Staff Star State States Station sticker Storm Sumner Sunshine Support Supreme Survivor Tag tags Taxi Tech Technician Technology Tem Temporary the Title Toltec topper Tourist trade Trailer TRANS. Transportation Treasurer Tribal Troops Truck Trust TV types U.S. Undercover Unit United University UNM VA Validation Vanity variations Vehicle Veteran Vietnam vintage Visitor Volunteer waffle Walker War Weight Western Wheaties Whip White Wholesaler Wildlife William windshield windshield Wingate with WNMU Woman World Wounded Wrecker WSMR WSPG Year YOM Zia The Complete Identification Guide to License Plates Issued in the State of New Mexico 1910-2017 value of New Mexico license plates Richard Miller ALPCA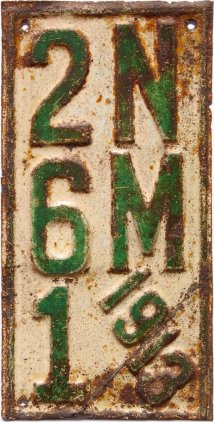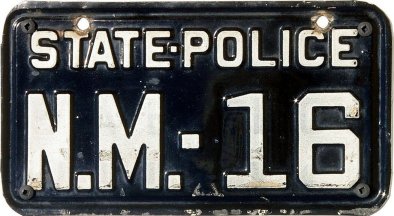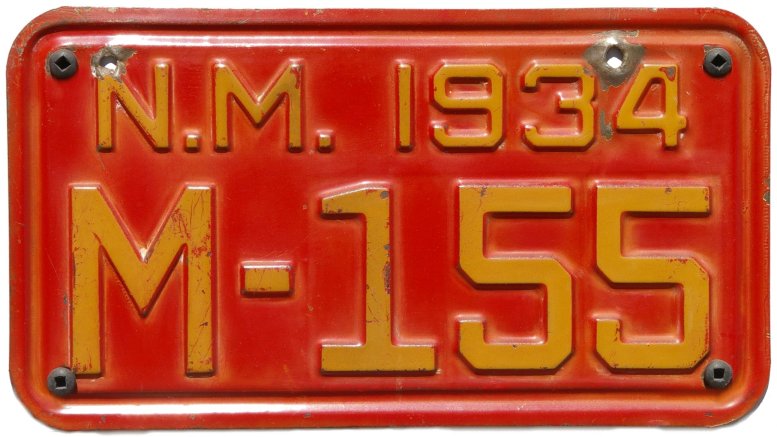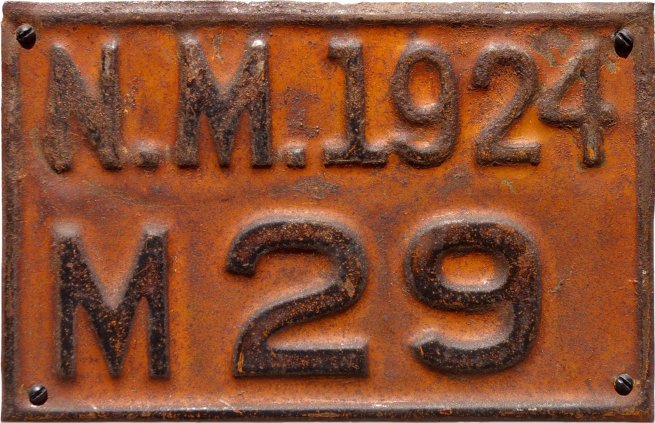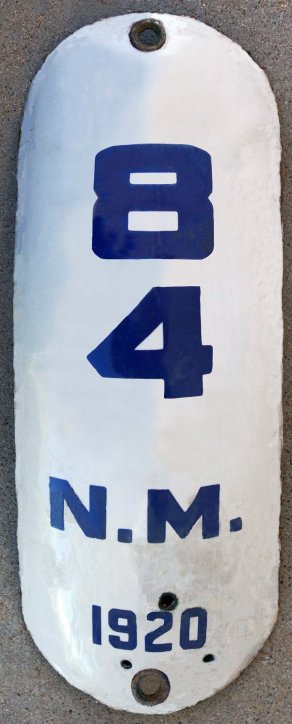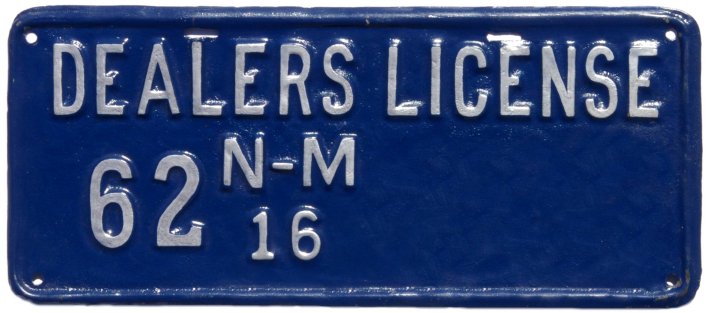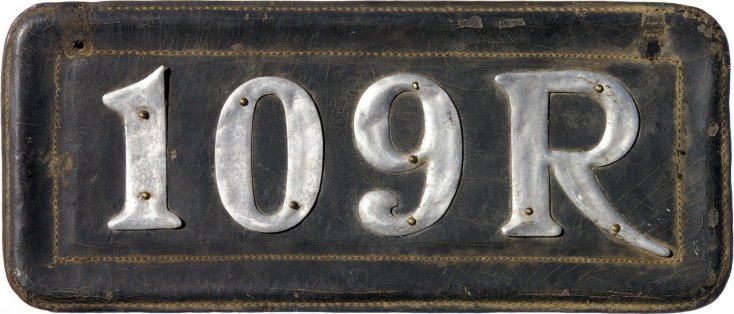 Copyright © 2012 Bill Johnston and Richard Miller
This site is optimized for a screen resolution of 1920 x 1080 pixels
Last Update: 02 Dec 2023 - 2137 MDT
LRU